Parts of the Cariboo are under a freezing rain warning.
Earlier this morning (Thursday, Jan 31) Environment Canada issued the warning for Highway 97 Clinton to 100 Mile House via Begbie Summit as well as Williams Lake.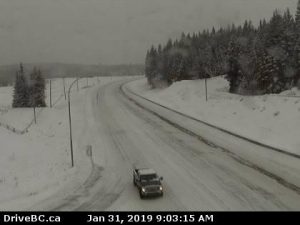 "We're expecting the freezing rain to actually continue through the day and into the evening so you may see several hours of freezing yet," said meteorologist Bobby Sekhon.
"Tonight we're expecting it to turn more to snow with still the risk of freezing rain remaining for the South Cariboo, however, there will be that transition period tonight where at some point we'll see it switch over to snow."
Once this front passes Sekhon said we'll get a few centimeters of snow Friday night followed by cold Arctic air over the weekend and into next week.
Temperatures are expected to drop quite low into the minus 30 range by early week.
A winter storm warning remains in effect for Prince George with 30 to 40 cm of snow anticipated by Saturday morning.