Anyone suffering from Crohn's disease or colitis or knows someone who is is invited to participate in a provincial focus group in Williams Lake.
Sandra Zelinsky from 100 Mile House has been traveling across the country as she is working with a gastroenterologist from Dalhousie University in Halifax researching patient access to care.
Zelinsky who has Crohn's disease herself and travels to Vancouver for care says she knows there are challenges that people who live in urban centers may not experience compared their rural counterparts.
"Often too you're driving 6 hours and you go for a minute appointment and you drive back home so its a lot of driving for these tests, appointments, and etcetera," she said.
"So I'm super excited to hear from the rural community."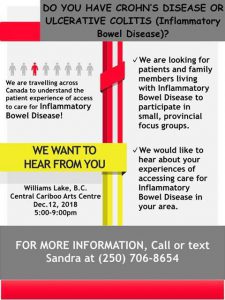 Zelinsky has so far traveled with the gastroenterologist's research assistant holding 12 focus groups in Nova Scotia, New Brunswick, Quebec, Ontario, and Western Canada with just three communities (Victoria, Vancouver, and Williams Lake) in British Columbia remaining.
"We've talked to quite a few people along the way. We've had people of all ages and we've had family members which have also been very valuable to hear their perspective of living with somebody who has Crohn's or colitis and trying to access care," she said.
"I am super excited to be coming to Williams Lake and am really hoping that we have a good turnout because to me it's really important to hear from the rural perspective. I think some people may not even have a  gastroenterologist but they primarily see their family doctor help them manage their Crohn's or colitis."
Zelinsky who used to own a small business in 100 Mile, but had some health issues took a course that taught specific qualitative research methodology at the Univerity of Calgary six years ago. She has since been working in collaboration with various academic institutes.
"Hopefully we're able to make improvements in our health care system," she said.
"We'll be comparing the experiences provincially because in Canada we're not just a one healthcare system. Each province has its own ways of doing things, and when you live in a rural community things vary or are different again than living in the city."
The focus group takes place in Williams Lake at the Central Cariboo Arts Centre from 5 to 9 pm on Dec. 12. Zelinksy said refreshments and food will available, and that those traveling from another community to be part of the focus group may be eligible to be reimbursed for their travel expenses.