Update Wednesday, Nov 28: All players that were taken to the hospital were treated and released according to School District 57 (SD57).
Ashcroft RCMP says four players and an adult chaperone were taken to hospital in Kamloops following the incident Tuesday afternoon 10-kilometers north of Cache Creek.
Police say the crash is being treated as a single vehicle incident, so no charges are being considered.
– with files from Brendan Pawliw, My PG Now
They pulled the bus out #cachecreek pic.twitter.com/D6IhZ7Hwl8

— Savannah GB-Pierro (@Savy12) November 27, 2018
Original Story Tuesday, Nov 27: A bus carrying the College Heights Cougars Senior Girls volleyball team from Prince George was involved in a crash this afternoon north of Cache Creek.
School District 57 (SD57) says that five of the 12 people on the bus, 10 students and two adults, have been treated in Kamloops hospital.
"All the injuries are non-life threatening," said RCMP Traffic Services spokesperson Mike Halskov.
"There was a helicopter called in for one of the injured persons who had a more serious injury that needed to be dealt with quickly, but again though, that injury is non-life-threatening."
He says it's unknown at this time what caused the crash, but police are investigating and believe the weather conditions were okay.
SD57 Superintendent Marilyn Marquis-Forster says the district's priority right now is reuniting all passengers with their families.
"Kids travel to compete in this province where geography is so big every day. Unfortunately, our students were involved in an accident, but we're thankful it isn't worse news and we're looking forward to hearing more about how our students are recovering."
According to Drive BC, the highway was closed for a brief period today but has since reopened.
College Heights was traveling to compete at the BC Girls Triple-A Volleyball Championship beginning Thursday in Powell River.
It's unclear at this time if the team plans to continue to do so.
College Heights Secondary Principal Randy Halpape has issued the following statement.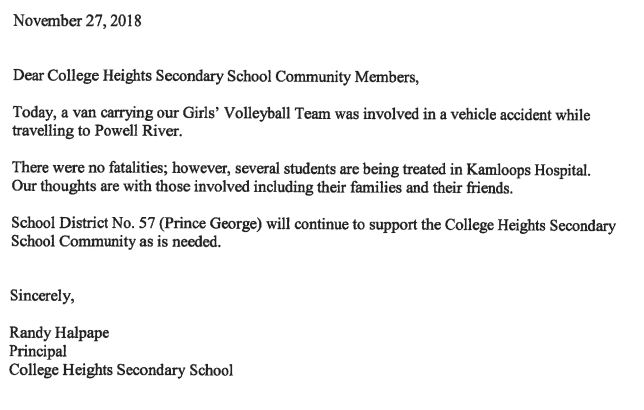 – with files from Kyle Balzer & Brendan Pawliw, My PG Now