The owner of a dilapidated building on Broadway Avenue South that has been deemed an 'eyesore' by the Mayor of Williams Lake wants to renovate.
The City said it is in receipt of a development permit from Sprucelee Construction for 1238 Broadway Avenue South with authorization from the property owners who intend to renovate and extend the existing building with the use of what it had been prior to its closure.
The site was a gas station with a convenience store and a restaurant-Quiznos before operations were halted.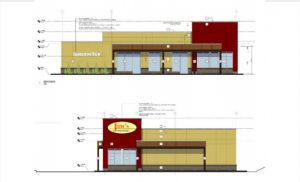 "This has been going on for three years now so finally it has come to this," said Mayor Walt Cobb before Council agreed on Tuesday to accept the development permit application, and a variance development permit for a canopy structure over the proposed service station and legalize an existing freestanding sign.
"This is great news," Councillor Scott Nelson said.
"As Walt pointed out we've been at it for three years-either sell it, clean it up, or develop it. Along that whole core, we've been encouraging development to be increased and this is because we pushed the developer and the owner to say enough is enough and we want this cleaned up."
Final consideration and approval on the request are expected by Council at their regular meeting on Dec. 18.