There are now 22 low mobility wilderness trails in the Cariboo Regional District.
A ribbon cutting will take place for the latest accessible trail at Big Lake on Tuesday, Nov. 20.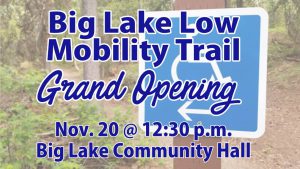 Area F Director, Joan Sorley said the Big Lake Community Association along with their contractor have been working over this summer and fall to get it ready.
"Several of our community members have already been on it and they've been posting on facebook about how great it is so we're really excited to be able to open it," she said.
"It's the first one in Big Lake."
The accessible trail starts at the Big Lake Community Hall and winds through the forest and along the lake.
"Big Lake Elementary School is excited to join us," Sorley adds.
"Our staff members who have worked so hard on it; I'm sure some of them will be there. The contractor I hope will be there, and we do have at least two citizens in Big Lake who are excited about trying it on their scooters."
The trail was made possible through funding from the Northern Development Initiative Trust and the provincial government in the form of a rural dividend.
"The Big Lake Community Association really without them working on it, it really wouldn't have happened."
Two other accessible trails-one at Moffat Falls in Horsefly and one at Bull Canyon Provincial Park-were also completed this year, and Sorley said there will be a grand opening for them next spring.