A UBC Okanagan computer science student from Williams Lake is the recipient of a $10,000 scholarship announced this year by the province to create opportunities for women in tech.
Marlie Russell is one of ten students from across British Columbia who was presented at Government House this week with a Women in Technology Scholarship from the Irving K. Barber British Columbia Scholarship Society.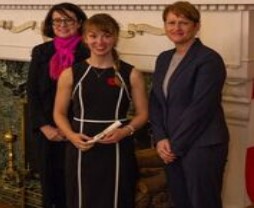 "I'm thrilled," Russell said.
"I don't really know what else to say. I'm very excited and I"m very very thankful of course especially to my mother."
Russell said she originally wanted to be a doctor and was halfway in her second year of biology and chemistry when she decided to switch to mechanical engineering.
"That was where I took my first coding course and it turns out I was good at it and I really, really liked it so I switched into computer science and I've been there ever since."
Currently, in her third year of studies with one more year to go, Russell said she is thinking of returning to the Cariboo to do tech in the natural resource sector in either forestry or mining.
"I'd say go for it," she said.
"Try a coding course and see if you like it but just know that you have a choice. So if you want to do computer science do it but if you want to do just biology you can do that too. It's nice to know that you have a choice."
The Women in Technology and Indigenous Women in Technology Scholarships from the Irving K. Barber British Columbia Scholarship Society were announced by Premier John Horgan at the BCTech Summit this spring to inspire and support more women considering the fields of science, technology, engineering, and mathematics (STEM).
"The sheer number and exceptional calibre of not just the award recipients but of all applicants speak volumes about the contributions made and the contributions that women will inevitably make to this province," said Rajiv Gandhi, chair of the Irving K. Barber British Columbia Scholarship Society in a news release.
"The namesake of our society believed strongly in education as the basis for equality, progress, and personal and professional satisfaction. We are humbled to steward this award and to play our part in encouraging the advancement of women in science."
The tech sector in B.C. is one of the fastest growing sectors of the economy and labour market forecasts expect more than 82,000 tech-related job openings over the next decade.
"We are encouraging and supporting girls and women to pursue a career in the tech sector," said Bruce Ralston, Minister of Jobs, Trade, and Technology.
"These scholarships are one of the ways we are working to ensure women have access to the right training to help advance their career in the sector. Women in the tech field bring different perspectives that can lead to innovative solutions that ultimately help businesses thrive and grow."