154 years after six Tsilhqot'in War Chiefs were wrongfully arrested, tried and hanged for murder, Prime Minister Justin Trudeau will be visiting Tsilhqot'in Title Lands this week to provide an exoneration speech to the Nation.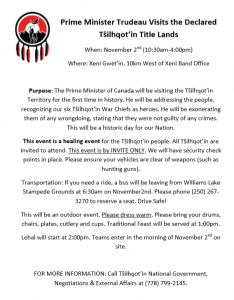 "I think it's a huge day for us, a day of healing," Tl'etinqox Chief Joe Alphonse said.
"We went to Ottawa back in March. We did the exoneration exercise with Canada right in the parliament building, but we said then there that that's their government house so they had to come to Title Lands and honor our process too."
Alphonse adds that Trudeau's 4-hour visit will be a path to true reconciliation.
"Reconciliation starts with the exoneration of our war chiefs of 1864, and this is chance for Chilcotin people  to hear directly from the big chief of Canada-Prime Minister Justin Trudeau, and it will be a big honor to have him here and hopefully we can move forward in a stronger way because of it," he said.
"For our Nation to get four hours with him on Title Lands it will be once in a lifetime thing for a lot of people; we've never had a Prime Minister ever come to our lands, our territory, and we don't know if we ever will again."
The event on Friday is by invite only and all Tisilhqot'in people are invited to attend.
"Security is going to be tight around this event, and we want this to strictly be about the Prime Minister and our membership," Alphonse said.
"There's a lot of issues and things are always complex in today's day and age in terms of governance; people have issues around pipelines and other things like that. This is not a day for that. This a day of correcting the wrong that happened 154 years ago."