The installation of six custom LED lights at Boitanio Park in Williams Lake was marked Friday afternoon with a gathering of everyone who helped make the project possible.
Manager of Community Safety for the City of Williams Lake, Dave Dickson said the $23,000 project was made possible through funding from Community Policing, the Rotary Club of Williams Lake, and the Integrated Community Safety Initiative.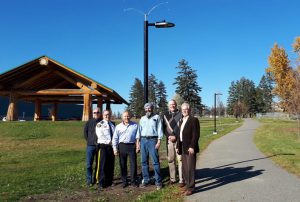 "This is our park and not a park for scoundrels," Dickson said. "It's a start. If we want to make this park better we have to use it more. Negative people don't like positive things."
Rotary Club President, John Hack said while the lighting had taken a while to come to fruition, it was something that was needed.
"We have a beautiful park here-we want to use it more often, we want to expand our offering, we want to make it friendly, we want to make it inviting, and one of the things to do is to make it safe," Hack said.
"They've got the dog park which is utilized a lot and the skateboard park so we're going to start lighting it up."
"It is a safe place but it was a way that we could enhance and make it even safer along the walking path," Williams Lake RCMP Inspector, Jeff Pelley added.
"It allows our proactive patrols for officers, our citizens on patrols, or just our community members, in general, to be able to have an increased visibility and enjoy the park."
Quite often patrolling the park day and night, head of Citizens on Patrol, Bob McIntosh called the arrival of the lights a long time coming.
"I think it's great," McIntosh said.
"We've talked about it 20 years almost."
As for improving the park even further, McIntosh said he would love to see more activity available for youth other than skateboarding.
"I know one time many years ago they used to have sandlot volleyball up here and that's gone," he said.
"The more activities we can keep kids involved in the less our crime goes up."
Chair of Community Policing, Bob Sunner agreed that the lights are a good first step forward in improving safety in the park.
"We hope that it will encourage residents to come out and enjoy the park more and make it their own," Sunner said.
"I think we need to enhance lighting even a little bit more. We should build upon this and light up this park and make it a real focal point for the community."