The Cariboo Regional District says it's been quite pleased with the voting turnout so far for the 2018 general elections.
Manager of Communications Emily Epp says their voting numbers have been strong through both advance polls and that over 100 more voters have come out compared to the 2014 election.
"We're encouraging people to continue to come out and we hope that they look at the candidates, and take the time to come out and vote on October 20th," Epp said.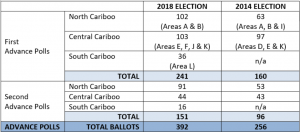 "We have voting locations all through the Cariboo Regional District-all of those are listed on our website."
Out of the 28,890 eligible voters in the Cariboo Regional District, 392 people have cast their ballots to date in the CRD general election.
Two pieces of identification are needed to cast a ballot.
Voting stations are available in Electoral Areas C and I for the North Cariboo Airport Service referendum, even though those Electoral Area Directors have been acclaimed. Find referendum polling stations at cariboord.ca/airports. Voters in Areas A and B can vote for the election and referendum at the same locations.
"It's important for people to know that sometimes the municipal and school district voting locations are different so make sure to double check that," Epp adds.
Mail ballot voting is available until Thursday.
When the polls close at 8 p.m on Saturday, October 20th unofficial election results will be posted at bc.localelections.ca/results.