Diversity was celebrated in Williams Lake with an opening ceremony for the Pride Society's rainbow crosswalk.
Leading a prayer and song on Saturday with Williams Lake Indian Band elder Mary Thomas was diversity rep for the All Nations Art Society, Edi Charley who called it an honor to be there.
"It's also great to see that our city is becoming more open towards our people and society as they are," Charley said.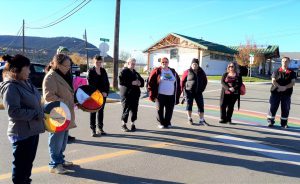 "We're all connected spiritually and in a lot of good ways, and it's good to have that connection in our web of life."
Thomas said it was very important for her to be there in the role that she plays for the elders.
"I've been involved in work for our people for many, many years in different ways," she says.
"It's so important to teach cultural sensitivity to diversity."
Before helping to cut the ribbon with the approximate 30 people who attended, Society founder Willa Julius thanked the community and said it's an honor to bring color to Williams Lake.
"I think it's wonderful to see it; it's central and it shows people that Williams Lake is an inclusive community and I look forward to enjoying it for many years to come," Julius said.
"So many people came just to support and be here for the blessing, and it means a lot to me."