An event to add a dose of fun and games to help educate about depression, anxiety, and good mental health took place in Williams Lake.
Canadian Mental Health crisis counseling program manager, Heather Silvester says Thursday's Beyond the Blues event at TRU went really well.
"We've had three presenters, as well as the group that's singing-they, came up from Vancouver and they've entertained and talked about psychosis in youth. It's been a really good program," she said.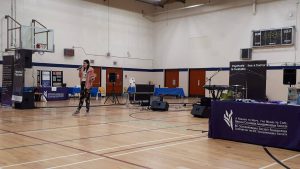 "Advertising worked really well this year, and we used Facebook for the first time which made a huge difference. We interacted with lots of people and we've given referrals to quite a few people to check in at the office just to see if they want to have some counseling."
"It's really had an impact on a lot of individuals so even it's affected one person it's worth putting this together."
Silvester says many people are still being impacted by last year's wildfires and that the second and third years are more intense than the first.
"Certainly we see it increase towards Christmas time," she says.
"People are triggered and it doesn't have to be the sound of a helicopter, the smell of smoke, people burning leaves. It doesn't take very much because people have all been impacted in different ways."
Due to receiving some funding, two new counselors will be working at the CMHA Cariboo Chilcotin Branch until 2020.
"That's really going to help because the workload is enormous so this should cut down on the waiting," Silvester says.
Beyond the Blues is held annually, and took place last year at the Longhouse with a focus on the Aboriginal population. An event focusing on suicide and recognizing what some of the signs are will be held in the early new year.