18 people are injured in 140 crashes in the North Central region over Thanksgiving long weekend according to ICBC data from 2013 to 2017.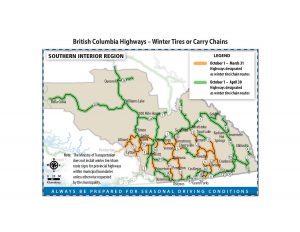 Tips to stay safe include knowing your route and giving yourself enough time to get to your destination, properly preparing your vehicle, and taking a break from your cell phone.
While posted speed limits are designed for ideal road conditions, winter weather can alter road conditions and is another reason Road safety Coordinator Doug MacDonald is reminding drivers to put the winter tires on.
"Some people have a preference of whether they have the studded or the softer gripping tires but having those winter tires on does make a difference in your stopping ability," he explains.
"It doesn't mean you can drive faster with winter tires, it just means you will be able to control the vehicle better when you find yourself in snow or slushy conditions, which we do find ourselves in this time of year."
Winter tires are now required for vehicles on most highways in BC's Southern Interior.
In all of BC, ICBC data shows there are four people killed and 650 people injured in 2,100 crashes over Thanksgiving long weekend.
(With files from Matt Fetinko, My Prince George Now)