The number of those living in poverty will likely get worse unless more concrete action is taken according to an outreach worker in Williams Lake.
Wayne Lucier who works with the Canadian Mental Health Association Cariboo-Chilcotin Branch, says while he's glad of Wednesday's announcement of the province cutting the annual allowable rent increase by 2%, most people still cannot survive.
He says that a single person receives just $710 a month in income assistance.
"When you look at $710, that is supposed to pay for their rent, their utilities, and their food," Lucier said.
"Right now without any increase, most people are running at $120 in the hole every month."
Lucier says he believes that a subsidy to help pay the rent of anyone who is making $18 dollars or less an hour would be of great assistance, and would even result in a reduced crime rate.
"People are doing whatever they have to do to survive out there."
While an affordable housing project at First Avenue North will help some, Lucier says there will only be an x amount that will be subsidized with the remaining at market rate which will be difficult for many.
"Even though it hasn't started construction yet except for the ground level, we've been getting calls for people trying to get on waiting lists and I'm pretty sure that waiting list is full," Lucier said.
"When that was first announced last year, I was getting phone calls from hospitals in Kelowna, Prince George, and Kelowna-and if you go up to the second floor here in Williams Lake you will see the same thing. We have a lot of people who are living in the hospital that shouldn't really be there, but there's no place for them to go."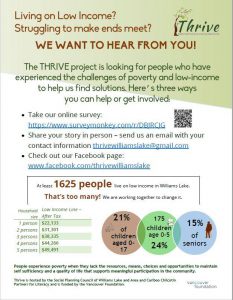 At least 1,625 people live on low income in Williams Lake according to the Social Planning Council of Williams Lake.
"We could probably build two more affordable housing units before we make a difference here in Williams Lake," Lucier says.
"When you look at our population, the problem is just going to get nothing but worse because my generation there's going to be a huge number across Canada who are going to be retiring here at the very most in five years. "
The Social Planning Council of Williams Lake and Area, and the Cariboo Chilcotin Partners for Literacy have launched a project entitled Thrive and are currently looking for people who have experienced the challenges of low income and poverty to help them find solutions.
"There's so much more that needs to be done especially now that winter's coming because I know that our shelter here in Williams Lake is at the max," Lucier said.
"We have to work this as a community. We can't just let one or two organizations try to fix this. We're going to have to have people with mental health, RCMP, community policing, and we're going to have to have the support of city councils to make changes here if we want to fix this otherwise it's going to keep just trudging along."
"The people who are trying to make the changes are getting tired."