A brisk Sunday morning did not stop Cariboo residents from showing their support for the annual Terry Fox Run.
In Williams Lake, first time organizer, Nichole Fraser said it went surprisingly well.
"We had a few hiccups, Some things came up, but I assume that happens with any kind of thing that you're doing. You can never figure everything and have everything covered, but we just managed it and kept on going and the race got started," she said.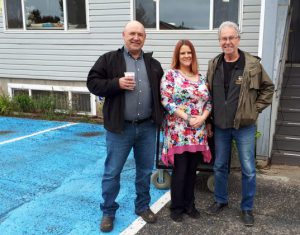 "Everybody seemed happy, and we raised quite a bit of money. I don't know how much yet, but I saw a lot of pledges coming in which is nice and quite a bit of online pledges too."
Fraser who lost her aunt last week to lung cancer added that it meant a lot for her to be there.
"It's a little tough to talk about, but we definitely didn't think that it was going to happen this soon. It kind of hit of us by surprise," Fraser said.
"Literally everybody has known someone with cancer or who has beaten cancer. It really means a lot to be here today, and to help in any small way that I can just makes me feel really good and really happy about the people that showed up."
About 50 individuals took part in the Terry Fox Run that was also held in 100 Mile House and Quesnel.
Williams Lake Mayor Walt Cobb gave thanks to Fraser for organizing the event and called it a very worthwhile cause.
"It's good to see a great turnout."