The Tsilhqot'in Nation and Southern Dakelh Nation Alliance are joining forces to ban all Limited Entry Hunts (LEH) for moose within their respective territories.

It comes in response to the alarming state of declining moose populations in their territories following the unprecedented 2017 wildfires and lack of effective action by the Province.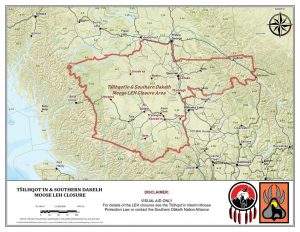 The situation is so dire that many Tsilhqot'in and Dakelh citizens according to a joint media release are deciding not to exercise their Aboriginal rights to hunt moose.
"Moose is an important food source and food security is becoming more significant in the Tŝilhqot'in due to the extreme changes in climate and environment," said Chief Russell Myers Ross, Vice-Chair, Tŝilhqot'in National Government.
"We need to prioritize conservation in this situation to bring the moose population back to a healthy and sustainable level."
The Tsilhqot'in and SDNA say they will work together and welcome other First Nations to join these efforts. They also ask all hunters to respect this ban on LEH hunting to allow the moose populations the opportunity to thrive as they did decades ago.
"Moose are integral to our people – we have relied on our moose for generations," said Chief Betty Cahoose, Southern Dãkelh Nation Alliance.
"When our moose suffer, our people suffer. We are pleased to work with our neighbours on this vital issue. This isn't about boundaries. This is about preserving and revitalizing a species that is crucial to all of our communities."
The Tsilhqot'in National Government according to Tribal Chairman Chief Joe Alphonse is conducting a review of their legal options and are looking at a possible legal challenge against the province to continue to the LEH hunt.
"In the end, it's going to be the Nation picking up the pieces from the fallout of BC's mismanagement of moose," Alphonse said.