Central Cariboo Search and Rescue now has a 23-foot jet boat.
Chief Rick White White says they're ecstatic of the upgrade from the 14-foot Zodiac with 25 horsepower that when loaded with some people and gear didn't go much faster than trolling speed.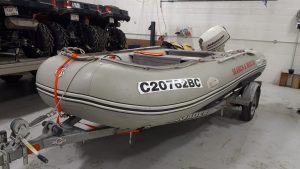 "We've had a couple of serious calls the last couple of years, and we've had an upgrade finally," he said.
"It's like going from a 4-cylinder car to a Porsche-quite impressive."
The boat according to auto extrication captain Don Trim has the capability to transport an ATV if needed and is equipped with a fair bit of electronics as well as four searchlights.
CCSAR was able to purchase the boat out of Mission from Carleton Rescue Equipment Ltd. after having received a $40,000 grant from the provincial government. The Cariboo Regional District which the CCSAR is a function of also attributed $15,000.
"They gave us a really good price on it," White said.
"Originally when they built it was $95,000 and the light bar we were told cost $15,000 alone. So we worked with the president of the company and he gave us a smoking deal because he's an ex-member of Search and Rescue from Alberta, I believe."
White says CCSAR will be practicing with the boat that is currently limited to still waters on Williams Lake Sunday morning.
He says that CCSAR has to date this year responded to 168 calls for service.