It was a proud moment for the Williams Lake Fire Department.
Tuesday's regular council meeting saw acting fire chief Randy Isfield pass the fire chief helmet to Williams Lake Fire Chief Erick Peterson.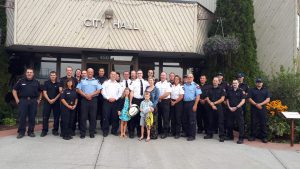 "I'm feeling pretty ecstatic," said Peterson.
"I'm happy everything is going really well and I'm happy to be here now two months working with such a great group of people."
Before accepting the helmet from Isfield, Peterson agreed to the responsibilities the fire chief's helmet entails including being accountable and responsible to the City, citizens of Williams Lake Fire Protection area, and the membership of the Williams Lake Fire Department that he works with which was followed by applause by members of the Williams Lake Fire Department.
Retired acting fire Chief Randy Isfield said the tradition of the fire chief helmet turnover has been going on in the Williams Lake Fire Department since 1929.
"We just want to keep that tradition going and each new chief that comes in, the last chief has something to say to him," he said.
The Williams Lake Fire Department turns 90 next year and Isfield noted that during those 90 years the Department has had eight fire chiefs: Bob Blair, Claude Huston, Sid Pigeon, Hank Fort, Marce Poirier, Dale Moon, himself; Randy Isfield, and Des Webster.
"Over nearly those 30 years the passing of this helmet ceremony has taken place seven times," he said.