Calling the last two wildfire seasons 'the new normal' could be misstating the direction we are heading.
According to University of Northern BC Professor of Ecosystem Science and Management Dr. Phil Burton, more intense wildfire seasons are consistent with a warming planet dealing with the effects of climate change.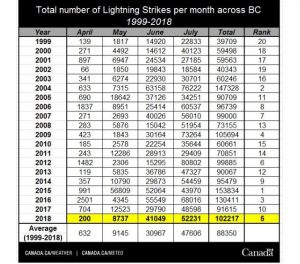 "Especially when looking at the mechanistic models projecting earlier fire seasons in particular, and through most of western North America the greater possibility of crossing the threshold to extreme fire dangers," he said.
Burton relates it to the mountain pine beetle, which took over ten years to eat through the available food and for the forests to become more resilient.
"A lot of this depends on the behaviour of winter weather in terms of snowpack, when does the first snow and cool temperatures arrive, and when are they gone," Burton adds.
"Currently the predictions are for earlier fire seasons, not necessarily later fire seasons, but longer as a whole."
Burton believes that community protection zones should start being implemented sooner than later, with a focus on fuel reduction and risk management. This he says would include reduced tree cover and introduce a more open space.
BC according to Environment Canada has seen 15% more lightning strikes compared to the 1999-2018 average so far this summer.
(With Files from Matt Fetinko with MyPrinceGeorgeNow)