The Little Britches Rodeo got underway Saturday morning under a smoky sky at the Williams Lake Stampede Grounds.
Coordinator Allison Everett says in total they have about 75 contestants from across the province including Prince George, Kamloops, and Okanagan as well as the local area taking part. She says due to the incremental smoke four contestants turned out.
"We had to cancel our rodeo last year because of fires and that was a very hard call for me to make," she said.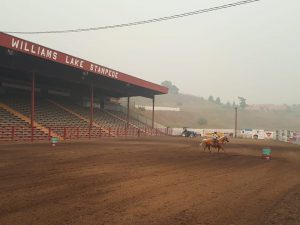 "I've just felt really strongly and after talking with several Directors and many parents we decided to go ahead with the rodeo."
The junior events alternating with boys and girls will be followed by the senior events this afternoon.
"Right now western Canada is engrossed in smoke and I don't think any of the animals are not accustomed to it. Be it different if we were riding for eight hours and strenuous riding, yeah I think it would affect them," Everett adds noting that parents can make the choice.
" For the most part what we're asking the horses to do is only about 20 to 25 seconds worth of work, sometimes ten seconds so I think they're fairly conditioned to the conditions."
The Little Britches Rodeo which also runs Sunday starting at 9 a.m. is open for everyone to attend.