The results are in from Thursday's election for the Williams Lake Indian Band that saw members voting for a new chief.
Elected as Chief was Willie Sellars.
"I'm pretty feeling pretty humbled," said Sellars.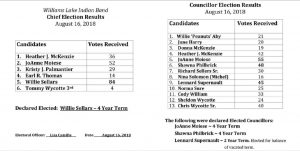 "When you look at the voter turnout we had this year, that was one of the highest voter turnouts we've had in the history of our election process so to be elected in by that margin, by that group of band members is pretty humbling, to say the least. I'm excited."
Sellars who has served three terms on Council takes over as Chief from Ann Louie.
"I think It's going to be status quo with the Williams Lake Indian. The legacy that former Chief Louie and Councillors Chris Wycotte and Heather McKenzie have left behind as well as other former leadership; we're on a good path right now and the goal is just to continue along and go from there," Sellars said.
"We're doing some pretty special things right now not only for the Williams Lake Indian Band membership but also the City of Williams Lake."
Also elected for four-year terms were Councillors Shawna Philbrick and Joanne Moiese.
Lennard Supernault will serve a 2-year term after being elected for the balance of a vacated term.
Sellars says he understands that they will be taking office on August 23rd.
"We're excited all around to have new faces and new blood in the office to continue on the good things that we've been doing to date."