Update Friday, August 17: The Ministry of Environment confirms that no waterways were impacted following a spill of approximately 150 liters of diesel at Husky on Hwy 97 South in Williams Lake on Thursday.
The Ministry said it was notified at approximately 11:17 a.m that a driver refueling their semi truck/motor-home caused diesel to spill to the ground.
On scene fire chief of the Williams Lake Fire Department, Erick Peterson estimated that about 400 liters was spilled and said that the Department was able to contain the spill by putting down absorbent material and sand.
"A contractor was brought on site for clean-up," the Ministry spokesperson added.
"No charges are contemplated at this time."
Original Story Published Thursday, August 16: Williams Lake Fire Department Responds to Diesel Spill at Husky
The Williams Lake Fire Department was on the scene of a diesel spill Thursday morning at Husky located on Highway 97 South.
Fire Chief Erick Peterson says they arrived at the scene at 11:30 a.m.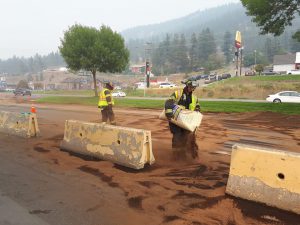 "When we responded we found that approximately 400 liters of diesel fuel had been spilled from the Husky station down the Highway and down Mackenzie," he said.
"Our crews responded promptly and they were able to stop the spill from going much further and we're currently in the clean-up stages."
Peterson says that members used sand brought in by City Works as well as an absorbent that picks the diesel off of concrete.
Owner Parm Klar said that a coach bus which apparently had two fuel tanks and did not have the gas cap on the other side was fueling in on the one side but spilling out on the other.
He said it was the customer behind the vehicle in question who alerted staff as it had left the scene.
"Within five minutes we closed the spill area and called 9-1-1," Klar said noting that the station used whatever absorbent they had on hand, running out to buy even more before the arrival of the WLFD.
"We're closed for business now because we have to clean the scene. It was a bad day for us."
"People make mistakes but please be responsible for your mistake-they just took off."
Williams Lake RCMP is investigating and a remediation team from the Ministry of Environment will be attending to determine if any remediation work needs to take place.
"They're really helpful," Klar said of the WLFD.
"My biggest fear was the spill catching onto fire so it was a good thing that didn't happen."