Volunteers gathered Thursday morning at Lake City Secondary Williams Lake Campus to help set up an Emergency Social Services Reception Centre as the City of Prince George nears its' capacity of evacuees due to the Shovel Lake wildfire.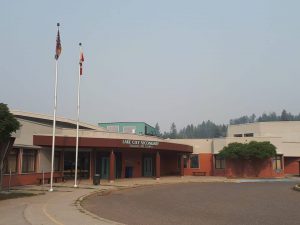 "Because Quesnel is on alert they're unable to take evacuees so Williams Lake has been in the ready," said Dave Dickson, director of emergency support services for the City of Williams Lake.
"Yesterday Prince George called and said we're close to capacity and therefore Williams Lake would you be interested in stepping up, and of course that's a no brainer. Prince George was absolutely phenomenal to us last year and if we can return a small percentage of that kindness that they had Williams Lake is all over that."
"We're ready anytime."
Dickson adds that commercial lodging woud be used.
"We have a capacity level in town at around 150 to 160 rooms so we likely can take 300, 400 people," he said. "We'll be working with all of the agencies, and the tourism staff are working putting together a list of who is available and where they are."
The Reception Centre is currently scheduled to be open for seven days.
"We have amazing volunteers," said Dickson noting some volunteers who assisted last year when Williams Lake was on alert have kindly offered to return.
"We have a learned a last things and I think all of our volunteers are just all the more trained and skilled."
Community members interested in volunteering are asked to stop by the Reception Centre as soon as possible today to speak with a coordinator.
The City of Williams Lake said donations at this time are not being accepted.