Update-Tuesday, August 14: RCMP are thanking the public who contacted them with their dash dam video and provided additional information as the search continues for a woman who remains unaccounted following a mudslide on Highway 99 Saturday.
Sgt. Janelle Shoihet says after having conducted follow up interviews, investigators can now confirm the following information:
Mrs. Morris and her husband were traveling in a group of six vehicles who were en route to Kamloops from Vancouver, not from Kamloops to Vancouver.
Mrs. Morris' husband had pulled over to the side of the roadway to put the top up on the convertible and was outside the 1968 Morgan Convertible prior to the mudslide.
Mrs. Morris is also 67-years of age, not 57 as originally reported.
"If you have additional information, or dash-cam video please contact the Ashcroft RCMP at 250-453-2216 and site file 2018-1038," Shoihet said.
DriveBC reported the road as reduced to single lane alternating traffic and advised that motorcycle travel is not recommended.
Original Post-Monday, August 13: RCMP are continuing to search for a woman who remains unaccounted for after she and her spouse were caught in a mudslide on Highway 99.
At approximately 5 p.m. on Saturday, Ashcroft and Lillooet RCMP were called to report that a vehicle had been swept off the roadway due to a mudslide at the 3300-block of Highway 99 in Cache Creek.
Upon attendance at the scene, Lillooet RCMP located the 67-year-old driver of the yellow 1968 Morgan convertible.  Police say he stated that he had been able to get out of the vehicle, however, his wife, who was the passenger was unaccounted for.
"Initial search efforts have been unsuccessful," Sgt. Janelle Shoihet said in a news release.
"Ashcroft RCMP with assistance from the RCMP Police Dog Service, Search and Rescue and Fire Service are continuing to search, however, efforts are being hampered by the quick moving water and unsafe conditions in and around the area of the mudslide."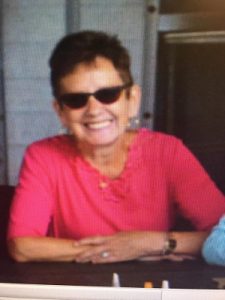 67-year-old Valerie Morris is described as:
Caucasian

5 foot 2 inches

113 lbs

Auburn Hair

Hazel eyes
Last seen wearing:
White/Cream Capri pants

Black Sun Visor Hat

Bright red jacket
Anyone who may have been a witness, or are in possession of dash cam video of the slide or the 1968 Morgan convertible prior to the slide, are asked to contact the Ashcroft RCMP at 250-453-2216.