An evacuation order remains in effect for the area around Houseman Road 12 kilometers northeast of 100 Mile House.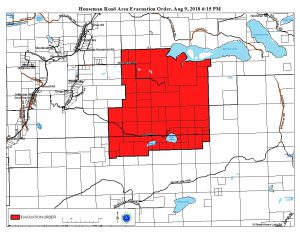 CRD Manager of Communications Emily Epp says the properties have been asked to evacuate to 100 Mile House and check in with Emergency Social Services, which is now located at the Peter Skene Ogden High school. Epp says 2 residents checked in last night, and more are expected today.
The order was put in place at approximately 6:15 last night and affects 57 properties.
The lighting caused Houseman Road Fire (C42363) which is located southwest of Buffalo Lake as of Friday, August 10 was listed an estimated 12 hectares and is 10% contained.
"There are 20 firefighters and four pieces of heavy equipment on site," said Fire Information Officer Robyn Clark.
"Ground crews are working to establish guard in order to gain full containment."
For more information, see the CRD evacuation order webpage here.