The Cariboo Fire Centre quickly responded to a wildfire at 135 Mile approximately three kilometers north of Hwy 97 Tuesday evening.
"A patrol plane called it in," said fire information officer Jessica Mack.
"We sent air tankers as soon as it was called in and have three firefighters on site using an initial attack truck to put water on the fire. There are no structures threatened at this time."
The cause of the fire is suspected to be lightning.
Mack said as of Tuesday the Centre had only two active fires-one at Grain Creek that is being held, and the other located five miles south of Nazko Lake Park that is under control.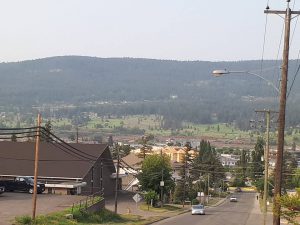 She said smoky skies in Williams Lake could be attributed to smoke from the Prairies.
A smoky skies air quality advisory was issued Wednesday for the South Thompson, Central Okanagan, South Okanagan, East Columbia, and all parts of the Province North of Quesnel.
"During a wildfire, smoke conditions can change quickly over short distances and can vary considerably hour-by-hour," stated the advisory.
"People with pre-existing health conditions, the elderly, infants, children, and sensitive individuals are more likely to experience health effects from smoke exposure."