A large water jug used to collect loose change for needy children is missing after the Williams Lake and District Credit Union was the victim of a break and enter.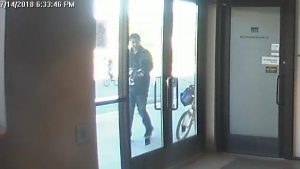 Releasing images of one of the suspects captured on video, Williams Lake RCMP report that two male subjects broke into the Credit Union on Saturday, July 14 after 6:30 pm by smashing the main glass door.
"Once inside, one of the subjects took a large water jug that was used to collect loose change and left the building," said Sgt. Del Byron.
"The money that was in this water jug was being collected for children that are less fortunate."
If anyone has any knowledge regarding this incident, they are encouraged to contact the Williams Lake RCMP at (250) 392-6211 or to call Crime Stoppers at 1 800 222-8477.
Crime Stoppers also subscribes to web tips at www.bccrimestoppers.com.