A lightning-caused wildfire located 7 km northeast of Comstock Lake is 45% contained.
BC Wildfire Service says that 85 firefighters, 34 contract firefighters, and 14 support staff are working Friday to burn out to machine guard where possible and mop up in established guards.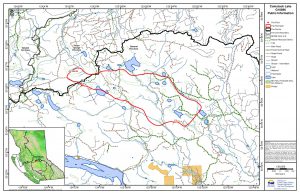 "Burning out is a planned ignition strategy that reduces the fire activity by eliminating unburned forest fuels between a control line and a fire perimeter," explained Comstock Lake Complex Information Officer, Forrest Tower.
"Burning out can bring the fire's edge to a natural boundary like a lake or rock outcropping or to constructed boundaries like machine or handguard."
No structures are threatened by the fire that is estimated at 2,750 hectares in size.
Crews are also being supported by 2 helicopters and heavy equipment.