A downtown property that was attended to by the Williams Lake Fire Department and RCMP over the years and also threatened by Council with demolition has been granted a business license.
Mayor Walt Cobb confirmed that the Slumber Lodge was granted a business license this past week.
"We had to play bad cop and good cop to get them where they're at because otherwise, it was a derelict building basically until they did all of the renovations," he says.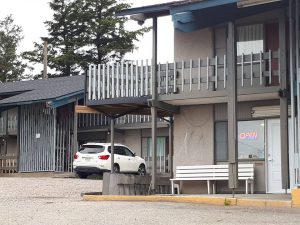 "We're happy they've conformed and got it operational."
The business license which is valid until December 31, 2018, is for 21 temporary/permanent residential occupancy units.
"They've still got a lot of work to do," says Cobb.
"They're talking about paving the parking lot and whatnot now but that all takes time. Anyway, it's looking way better."
The property where the basement section is Cobb says is a separate lot and is being dealt with in a separate manner.
MyCaribooNow was unable to reach the owner for comment.