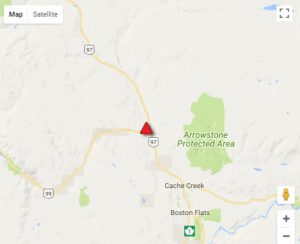 Three people are dead after a commercial vehicle collided with passenger car Thursday morning near Cache Creek.
"Multiple emergency services attended the scene and found that a commercial vehicle traveling south on Highway 97 collided with a passenger car traveling north on Highway 97, turning left (west) onto Highway 99," said Cst. Mike Halskov.
"All three occupants in the passenger car were killed as a result of the collision."
Highway 97 according to DriveBC is reduced to single lane alternating traffic with up to 30 minutes delay.
"The area around the intersection will remain closed for an undetermined period of time as Central Interior Traffic Services, the Integrated Collision Analysis and Reconstruction Service (ICARS) and the BC Coroners Service investigate this collision," said Halskov.
Anyone with information regarding the collision is asked to contact Central Interior Traffic Services in Ashcroft at 250-453-2216.