The Williams Lake Indian Band will be placing numerous signage around reserve lands restricting access following last summer's devastating wildfires.
"There's a couple of issues that we have there," says Councillor Willie Sellars.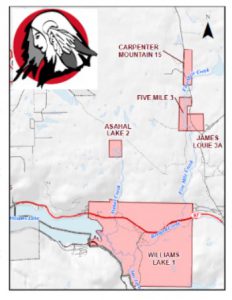 "One we're trying to protect the safety of those individuals that are picking the mushrooms but also we're looking at protecting our heritage at the same time. So WLIB right now before we let anybody in there we want to make sure we do a post-impact archaeological assessment so we can identify potential arc sites that have already been identified in that area and see if anything new has come up because of the wildfires that ripped through there last summer."
Sellars adds that because of the wildfires they are doing salvage logging with Tolko and Borland Creek Logging, and are harvesting 230,000 cubic meters of timber before July 1.
"When people start flagging down logging trucks to ask for directions it raises some red flags and safety concerns for us," says Sellars.
"We want to do that post-impact archaeological assessment after the logging is done so after that we would look at a process for people to get in there and pick."
Along with the numerous signage restricting access the impacted reserves Williams Lake No. 1, Asahal No. 2, Fire Mile No. 3,  James Louie No. 3A, and Carpenter No. 15 are now classified as No Go Zones for the harvesting of mushrooms.