A memorandum of understanding (MOU)  was signed Friday with a Tsilhqot'in First Nation and the B.C Conservation Officer Service to promote the sustainability of wildlife within its traditional territory.
"I think it's a really positive direction we're taking," says ?Esdilagh First Nation Chief Roy Stump.
"Everything is going to be good. We've tried to get better control of the moose population in our hunting territory here. Hopefully, other nations will come on board with us with no hunting of the cow moose."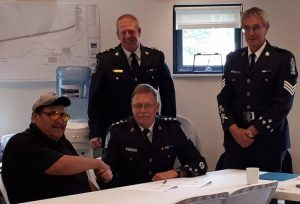 Stump says that overall they want a sustainable wildlife population that everyone can benefit from.
The MOU is valid for one year and strives to foster an understanding of  ?Esdilagh's customs, traditions, and cultural, and spiritual practices, as well as to promote the management, protection, and stewardship of moose in its' traditional territory.
"Today is a good day," says BC COS Sgt. Andy McKay.
"It was a big step forward in getting everybody together. It's been a couple of years in the making, but it's a good day to finally get this signed off. I think the common issue of us both trying to protect the moose appears to be the final thing that brought it together."
As well as promoting the sustainability of wildlife within ?Esdilagh traditional territory, the MOU also encourages the promotion of proactive measures to lessen potential human-wildlife conflicts.
?Esdilagh lead guardian Curtis Rowley says he believes that the MOU is a good start in joint patrolling and working between First Nation communities and government agencies.
"The moose is one of the biggest concerns right now, but there's more and more stuff happening like elk moving in and the mushroom harvest that I've been monitoring around here," he says.
"So seeing this cooperation between the two groups is groundbreaking. I want to see more of this happening with not just ?Esdilagh but the other communities in the Cariboo region. I think now that we have invented the wheel so to speak other people can use this MOU and run with it and build on it, share, and create other things."
Stump says signs donated to ?Esdilagh at the signing by Dan Simmons with the Cow Moose Sign Project will be put up from the main entrances from the north from Quesnel, and from the south from Williams Lake, and all along the Fraser River.