Stand-up zipper lock pouches, net bags for produce, potato chip bags, and even cheese slice wrappers are some of the materials now being accepted at 13 recycle depot collection locations in the Cariboo Regional District.
Supervisor of solid waste management Tera Grady says they would like to see residents embrace recycling this new material type and divert them out of their garbage.
"We see more and more producers going to these stand-up pouches and multi-laminate packages because they're very efficient to transport goods and they're lightweight so we're seeing more and more of these packages in the things that we purchase and bring home," she says.
"A lot of these materials are issues in our landfills mostly because they create scatter-they're easily windborne and cause a lot of issues around our landfill sites. As well it's a resource we're wasting by land-filling. If we can recover it and use it for energy that's definitely a better option than landfilling it."
The Other Flexible Plastic Packaging  is part of a research and development project led by Recycle BC.
"Each day, we move closer toward our ultimate goal of collecting all types of packaging," said Allen Langdon, Managing Director of Recycle BC.
"We're excited to be developing a viable commercial process to recycle these common but tough-to-process items, and ultimately to bring more recycling options to communities throughout the province."
Any packaging collected that can't be recycled will be recovered and produced into engineered fuel.
"It will be really important for residents to continue to separate these items from their other recyclables specifically plastic bags," says Grady.
"We have a category that we collect at our depots right now that is strictly for plastic film and overwrap which is plastic bags, or the plastic wrap that goes around your flats of water or cans of soup, or your toilet paper or paper towel rolls.  It needs to be kept separate from this new material type that will have to be treated differently."
The Other Flexible Plastic Packaging program is available at the following depots in the Cariboo: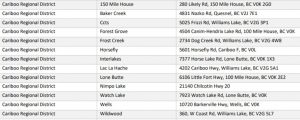 It's expected to roll out to all Recycle BC Depots in the province January 1, 2019.