A juvenile eagle is now recovering at the Orphaned Wildlife Rehabilitation Society (OWL) in Delta after having been rescued this week by Bella Coola RCMP and a community resident.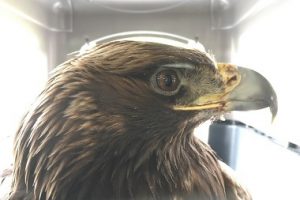 Constables Casey Charles and Marina Coan responded Sunday to the eagle with a broken wing on the bank of the Tatsquan near the bridge.
"The injury prevented the eagle from flying," explained North District Cpl. Madonna Saunderson in a release.
"Cst. Coan got in touch with the Conservation Office who in turn contacted OWL who provided instructions to the members on how to catch the bird."
The eagle according to Saunderson then spent the night at the detachment where it was given a meal of fish before being flown to OWL where it will be rehabilitated and returned to the wild.