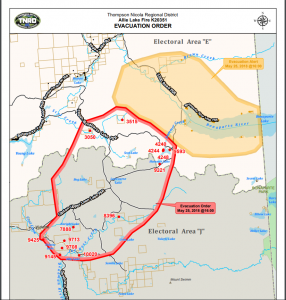 Updated Saturday, May 26 at 11:15 PM
The Thompson-Nicola Regional District (TNRD) has put an evacuation order in place for the Allie Lake wildfire, as well as an evacuation alert.
An Evacuation Order has been issued for properties along Clinton-Upper Loon Lake FSR, Eagan-Bonaparte Lake FSR, and Deadman Vidette Rd
An Evacuation Alert has been issued for properties along Bonaparte Lake, Bonaparte-Spur Lake FSR, and Eagan-Bonaparte Lake FSR.
Residents in the affected areas should contact the TNRD emergency operations center at 1-866-377-7188.
The Allie Lake fire is classed as out of control, and smoke from the fire can be seen from surrounding communities. The fire is located near the perimeter of the 2017 Elephant Hill wildfire but is a new wildfire.
The order and alert were issued at approximately 4:30 Friday afternoon.
The Allie Hill wildfire is estimated to be 2,100 hectares in size and is located approximately 60 kilometers southeast of 100 Mile House.
For more information,visit the TNRD website here.