There was a special sign unveiling and ceremony at G.R. Baker Hospital in Quesnel this afternoon.
It recognized the traditional territory of the Lhtako Dene First Nation and welcomes both indigenous and non-indigenous people to the facility.
It was also in memory of the late Chief Frank Boucher Junior who was Lhtako Dene Chief for more than 30 years.
Among those in attendance was Frank's sister Terry Boucher, who is herself a former Chief.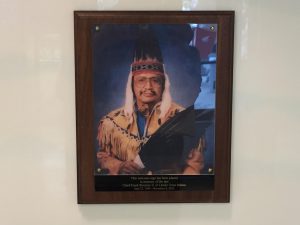 She says Frank, who passed away in 2013, would be very happy.
Here Boucher talks about what today means….
"it's been a long time in coming, we've been wanting some recognition because this is Lhtako territory and the hospital is built on some of our graves, so it means a lot."
Quesnel Mayor Bob Simpson, also the Chair of the Cariboo Chilcotin Regional Hospital District, was also on hand…
"The city of Quesnel embarked on the beginnings of reconciliation when i took over as Mayor. After working very closely with Lhtako and many, many community meetings we now have that recognition throughout all of our civic properties and we have a protocol agreement with Lhtako that we signed last year with much celebration."
Penny Anguish, Northern Interior Chief Operating Officer for Northern Health, talked about what the unveiling meant moving forward…
" I would also like to acknowledge with respect the history, customs and culture of the Lhtako Dene nation on this traditional territory. Northern Health recognizes the historical significance of the G.R. Baker Hospital site to the Lhtako Dene people and we're committed to engaging and working with the First Nations into the future. This recognition also comes as we engage in consultation with the First Nations leadership and as part of the planning process for the improvements that we'll be making in this facilities' emergency department and the intensive care unit."
The speeches were followed by some traditional dancing and singing.