Billowing black smoke was visible Friday morning as the Williams Lake Fire Department responded to a house fire on Schmidt Road off of Dog Creek Rd.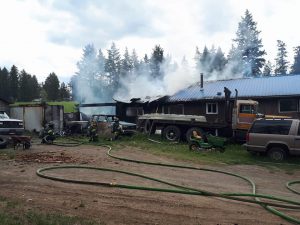 BC Ambulance and Williams Lake RCMP were also on scene, and the 150 Mile House Volunteer Fire Department offered assistance.
Although there is no word yet on what caused the blaze one neighbor reported hearing a loud bang.
Neighbors, as well as the owners of the rental property, said the resident made it out safely with his dog.
The property appears to have sustained substantial damage.