A series of expos on how individuals can prepare for and recover from wildfires will be taking place next week in three Cariboo communities.
Wildfire Recovery Manager for the City of Williams Lake, Trevor Kier says that over 25 agencies will be present with more than 40 information tables and that there will be a strong component on mental health and wellness
"As we move into this coming summer season and as people are dealing with floods or potential flooding in their community, we want to provide people with information so that they're informed as they can be with the hopes that as they have that information and they can have that face to face conversation with experts they'll be more informed, and hopefully that will bring down any stress or anxiety that they may be feeling for the upcoming season," he says.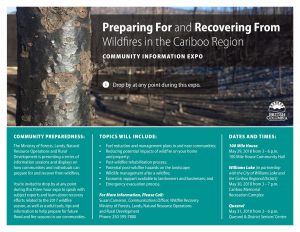 The first expo takes place on Tuesday, May 29 in 100 Mile House followed by expos in Williams Lake and Quesnel.
Wednesday's expo in Williams Lake will feature a number of informational talks offered throughout the day in the Gibraltar room as well as children's activities and a free community BBQ.
"With spring not only do we want to inform people about the upcoming wildfire season, but we also now have enough time and information to be able to share that information of what we've learned and how we're moving forward," says Kier.
"What we found during the wildfires season last year is that our communities in the Central Cariboo really came together and supported one another. Another big theme of this is a thank you. We really want to thank everybody that stepped up and supported and helped out in some way last year, and to acknowledge our resiliency, how well we came through the wildfires last year, and how the various agencies that responded will respond again and how we will do an even better job in the future."
A keynote address on the theme of rejuvenation that will feature speakers with the Ministry of Forests, Lands, Natural Resource Operations and Rural Development, Cariboo Fire Centre, and Canadian Mental Health Association as well as a multimedia presentation by photographer Chris Harris will conclude the expo in Williams Lake.
"Finally we're going to have singer, LeRae Haynes, performing a fire song that she just wrote recently and will be launching that at the event," says Kier.
"It's going to be a really nice cap to our event and we think it's going to provide a lot of information for the community. We hope that when people leave they're going to feel really informed about what is taking place, what the plans are moving forward, and they're going to continue to feel that great community spirit that's present right now our in various communities and just feel they've had a very good Wednesday, end of month."