It will be just small campfires that are allowed in the Cariboo Fire Centre as of Wednesday.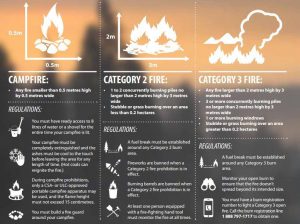 Category 2 fires as well as the use of fireworks, sky lanterns, air curtain burners, and use of binary exploding targets will be prohibited as of noon, May 23 to help prevent human-caused wildfires and protect public safety.
"This prohibition is being implemented due to an increase in fire danger ratings caused by a drying trend throughout the Cariboo Fire Centre," states B.C Wildfire Service.
"Anyone found in contravention of an open burning prohibition may be issued a ticket for $1,150, required to pay an administrative penalty of $10,000 or, if convicted in court, fined up to $100,000 and/or sentenced to one year in jail. If the contravention causes or contributes to a wildfire, the person responsible may be ordered to pay all firefighting and associated costs."
Category 3 open fires have been prohibited in the Cariboo Fire Centre since April 23, 2018.