The Potato House, Station House Gallery, 150 Mile House School Site, Museum of the Cariboo Chilcotin, and Xatsu'll Heritage Site have partnered together for a free Bicycle Festival this long weekend in Williams Lake.
Mary Forbes says normally at this time of year the Williams Lake area would be hosting the BC Enduro Races with a wrap-up party at the Potato House.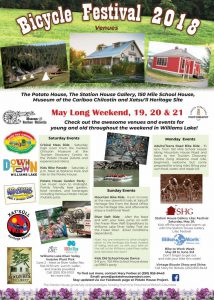 "But this year because of the fires and because a lot of our mountain bike track has been burned no Enduro, but we still want to have a party," explains Forbes.
"It's a great opportunity for us to reconnect with each other and to also reconnect with our old buildings. We lost some heritage during the fire and this is a great place to celebrate what we still have and how can protect it for the future."
The Bicycle Festival kicked off Saturday at noon with a critical mass ride from the Cariboo Chilcotin Museum to the Potato House and wraps up  Monday with a bike ride from 150 Mile School House to the Williams Lake Tourism Discovery Centre.
Further Information about the Bicycle Festival and its events is available at the Williams Lake Tourism Discovery Centre, and Forbes says that the Museum of the Cariboo Chilcotin is hosting a Vintage Bicycle Show and Shine.