24 high-school students with School District 27 will complete three rotations with heavy equipment Saturday morning before Heavy Metal Rocks at Centennial Gravel Pit in Williams Lake wraps up.
West Fraser Mills Operation Supervisor, Amanda Black says that West Fraser has been a part of the program for three years now.
"I think it's an awesome experience," says Black.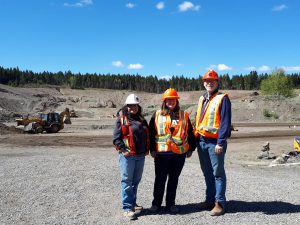 "It's great for the kids. It's great exposure for the next generation going into industry."
Giving students hands-on experience and mentoring in bunching trees, skidding trees, processing, loading, doing some excavator work, grading and more, Black adds that Heavy Metals is a great experience for West Fraser as well.
Other local industries participating in the 8th year of Heavy Metal Rocks include Tolko, Gibraltar Mines, and Mt. Polley Mining Corporation.
School District 27 Coordinator of Career Programs, Dave Corbett says that Heavy Metal Rocks will conclude with a barbecue lunch followed by awards for the students and trainers to give thanks back to the community and recognize the students to hopefully have them some vision for their future and potential jobs they can be confident of.
"Very early in the school year in the fall we start planing again," says Corbett.
"Meeting the key people involved in the community and organizing it, and then we meet strategically about every two months through til the windup again. It's a lot of work, but when you have a lot of people buying in and believing what you are doing it's really exciting."