It was the first day of a new location for the Williams Lake Farmers Market that wrapped up Friday afternoon beside Kiwanis Park.
"So far it seems like it's been a really, really good move. Lots more space, it's quite nice and it accommodates all the vendors," says market manager Jane Bowser.
"For the first market its' been a really good turnout."
The Market in previous years was held at Boitanio Park.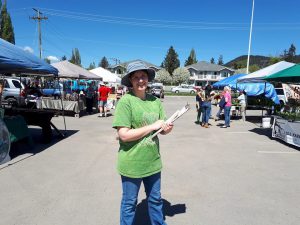 "The Market was quite large and then it actually kind of folded a little bit, and we've been slowly building up and this is the first year that I've been it so robust this early in the season," notes Bowser.
"So it's really good to see."
The Williams Lake Farmers Market had requested funding from the City on April 10, 2018, for installation of power outlets in its new location, along with permission to install permanent signage and ability to leave a sea-can permanently in the area.
"A quote for installation of power in the areas requested was obtained by City staff. The cost of installing six pedestals which would provide 12 outlets was quoted at approximately $6,859.00 for the work," said Geoff Paynton, Director of Community Services.
"This work could be completed quite quickly if funds are secured."
Paynton added that staff does not recommend the location of a sea-can in, or around, Kiwanis Park or at the rear of the CMRC.
"Some of the vendors are having a little bit of difficulty. So of our food production vendors are having difficulty and are having to run generators," says Bowser.
"What I've heard is that the City will be giving us power at the end of the month maybe, and that will definitely change things and we can turn off those generators. That will be good for them."
Bowser who was born and raised near McLeese Lake has been a regular fixture of farmers markets with her parents being the owners of Hill Farm Nursery.
"I've been helping out with that and will be going off to pursue horticulture as a career in the fall. I hope to maybe even start my own business in that aspect," says Bowser.
The Williams Lake Farmers Market runs each Friday in Kiwanis Park from 9 am until 2 pm.