Mayor Bob Simpson says the project, which will include new roads, water pipes and sidewalks, will be done in two stages…
"The first stage will be to half way up the 300 block so around Green Tree store. Then the second stage will be down through the Safeway towards the Best Western. That way it allows us to have at least that 400 block still available before we actually get in and replace the water main. It will also give us an opportunity to do the first stage as a 24-7 project because there are no residences in that lower portion of Reid Street. And then the second stage, where you have the residences around the Johnston Meier building and up at the Best Western where you have the hotel, we'll do that from 6 am to 10 pm."
Simpson says the second half of the project will then take from mid July to mid September.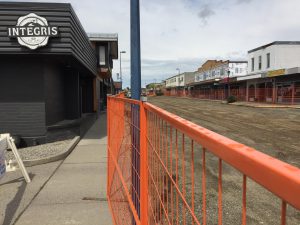 Right now the safety fences are up and the sidewalks and businesses remain open….
"They will remain open until such time as we have to do the crossover, the connecting pipes from the water main into the building and then replace the sidewalks. So those two times, when the water main connections are done and when the sidewalks have to be replaced, those will be communicated both to the individual businesses and to the residents so they know that those stores may not be available at that time."
Simpson says he sees this as an opportunity to change Reid Street from basically a two lane heavy traffic street to a proper retail street….
"Most retail streets now put the pedestrians first, so when you do that, when you plan from the storefront into the street and put pedestrians first, you need wide sidewalks, you need some sitting areas and the opportunity for people to cross the street in a way that is a shorter cross. You also have to build in temporary parking spots, whether that's for individuals with disabilities, smaller vehicles or when people are just doing drop offs, Handy Dart, taxis, people dropping their kids off at the movie theatre for example."
Simpson says in order to accomplish that you have to go slightly narrower than what a two lane configuration would be, so it will be one very wide lane down the middle and that was actually deliberate because one of the things the businesses said they wanted to see was the traffic slowed down and more pedestrian capabilities.
In the end he says Reid Street will be a retail-pedestrian friendly street and a beautiful spot for people to go down and to shop and hang out and to socialize.
The total cost of the project is 6.1 million dollars….
"From engineering the project because it is a very technical project to engineer and the engineering costs are quite high. The reason for that is most of those buildings on Reid Street were built individually and are all at very different heights. To experience that just walk up and down Reid Street and see which buildings you have to step up into and which buildings you actually step down into, so the engineering portion of it was very expensive, the water main portion is a technical project with quite an expense, and then of course the beautification on top."
Simpson says it was a fully funded project however, paid for with both water and capital reserves.