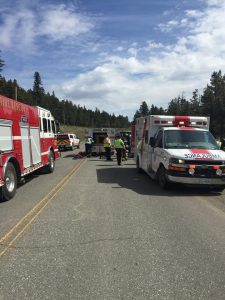 Emergency response crews rushed to the scene of a vehicle that went off road into a ravine Friday afternoon on Fox Mountain Rd approximately 2 miles east of Highway 97 north.
Williams Lake RCMP Staff Sgt. Del Byron says that the woman and lone occupant of the vehicle sustained injuries and had tried out to climb out of the ravine for approximately 2 hours.
She was then reportedly spotted by a man in a lift kit pickup as he drove by and heard her screams.
Search and rescue attended to pull the woman out in a basket.
"The matter is under investigation," says Byron.
(Editor's Note: The incident was reported earlier to have occurred on Mountain House Rd. RCMP confirmed that it in fact was on Fox Mountain Rd.)