The first first nations hockey player named to the Canadian women's Olympic hockey team made an appearance Thursday in Williams Lake.
Wearing her jersey worn at the final game and donning her silver medal from the 2018 winter Olympics, Brigette Lacquette shared her story at the TRU campus before taking questions from the public.
"Everyone has been very welcoming and just to be able to come share my story has been pretty amazing," says Laquette who on Wednesday evening had also stopped in at the Esso Girls Fun Day at Total Ice Training Centre.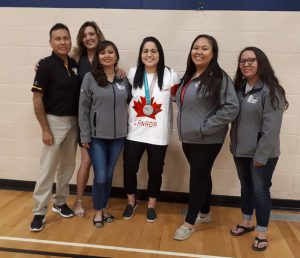 "I've had about five days off after the Olympics and I've just been on the road since here, there, and everywhere some places in Manitoba, Ontario, southern Alberta, and Saskatchewan even."
From the Cote First Nation in Saskatchewan, Lacquette grew up in Mallard, Manitoba, 300 kilometers northwest of Winnipeg, and started playing hockey at the age of 5.
"A lot of hard and determination," Lacquette says of her path of where she to got to now.
"I had a goal in mind to play on the Olympic team so I just did everything possible to not only me but my entire community and family. It's been a full family effort."
She says that she will keep playing for the Calgary Inferno next year and keep cracking away at the national team.
She recommends young youth to give 100% to everything that they do, and be kind and respectful.
Lacquette was invited to Williams Lake and hosted by the Punky Wilderness Camp Society.
"The idea was brought to me by one of the gentlemen who used to work with me over at TNG," says executive director Sarah Jackman.
"His name is Lennon Solomon and he had been in touch with her and thought it would be exciting for some of our young guys and girls that play hockey with us and take our clinics to have somebody who is really inspiring to talk with them."