A forestry think tank got underway in Quesnel this afternoon at the North Cariboo Community Campus.
Forest, Lands and Natural Resource Operations Minister Doug Donaldson kicked things off with an opening speech that included a commitment following what will be nearly two full days of discussion…
"I will be keenly looking forward to the summary and the highlights and having staff, who are able to stay here throughout the next day and half, for debriefing on how that can influence government policy and legislation into the future."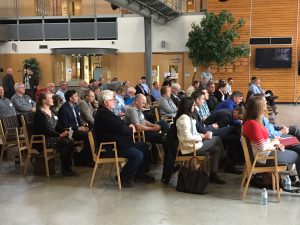 Donaldson also talked about whether or not government currently has the right policies and legislation in place…
"i would say in some cases yes , but in other cases no. We need to come up with better policies and legislation to manage for additional values that might become more important now and into the future around forestry management."
The main focus of this technical working session is to explore opportunities to use Quesnel as an incubator to accelerate research and development in alternate forest management and innovative manufacturing and processing of forest fiber.
Mayor Bob Simpson, in his opening remarks, challenged those taking part to come up with "an unprecedented response to the unprecedented challenges we face."
The think tank includes policy makers, researchers, funding agencies and industry.
The idea is that solutions for Quesnel could also help other forest-dependent communities in British Columbia.