The Scout Island Nature Centre is reminding the public that no fires are allowed after it appears that a teacher and some students were seen building a fire on the far side of the island last week.
"Considering with what's happened last summer and the fact that we're very dry this spring. I know you think that you're standing next to water and there's no problem but the grasses are bone dry," says executive director Sue Hemphill.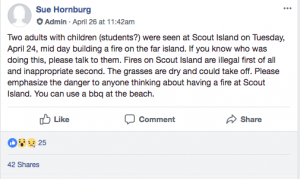 "So please if the public sees anyone, please go up to the person and tell them no fires are not allowed and then help them put it out.."
Hemphill adds to then get rid of all signs that there was a fire to ensure that anyone else does not get the misconception that they are allowed.
She says that although such issues are not frequent, she has once caught people camping and that it was 6-8 years when fire took off that resulted in the response of the fire department.
The individual who seen and reported the fire on mid day Tuesday according to Hemphill was not certain if fires were allowed as it appeared that it was being built by a teacher with their students. He returned to find it extinguished and then removed all signs of it.