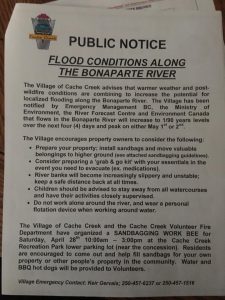 The Cache Creek area is bracing for what may be the worst flood season in 90 years, and local resources are watching the situation.
The Mayor of Cache Creek has called a local state of emergency and waters from a fast melt have flooded the banks of rivers and creeks in the area.
Cam Jensen of 100 Mile Search and Rescue says that at this point they have not been called to assist with the developing situation, but will send a team if called upon by RCMP.
Several areas in the town have flooded, and sandbagging events will continue all day long. Some road closures are in effect. For current road information please go to www.drivebc.ca.