Human Caused wildfires are already proving to be an issue this spring in the Cariboo-Chilcotin.
"A this time there have been four human-caused wildfires that have occurred since last Friday and two of which natural resource officers have attended," says Jessica Mack a fire information officer with the Cariboo Fire Centre.
The human-caused fires occurred in 100 Mile House and Quesnel, with the other two in the western portion of the Cariboo Fire Centre.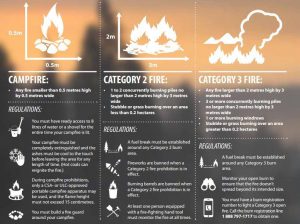 Category 3 Fires have been prohibited throughout the Cariboo Fire Centre and also within the Tsilhqot'in (Xeni Gwet'in) Declared Title Area since Monday, April 23.
"Right now the upcoming weather is looking warm and dry and with the potential of 30km/h winds this Saturday," says Mack.
"If anyone is planning to ignite any Category 2 open fires which are not restricted within the Cariboo please ensure that you have adequate resources on site. That can be people, water, and tools to prevent any fire from escaping."
"If your fire does escape and results in a wildfire you may be fined anywhere from $100,000 to $1 million dollars and you may be sentenced up to one year in prison."