The BC Wildfire Service continues to investigate a grass fire that got out of hand on West Fraser Road late last week.
The West Fraser Fire Department is reporting that around 17 acres of a neighbour's property was burned.
That was before a category three open burning prohibition was put in place by the Cariboo Fire Centre.
Fire Information Officer Claire Allen confirms that that means that fires larger than two metres high by three meters wide are not permitted as well as no more than one windrow or grass larger than an area of .2 hectares.
Here Allen talks about what can happen should people ignore this or not monitor their fires properly…
"Anyone that is contravention of that can be fined up to $1,150. Now if that fire does escape and does result in a wildfire, an individual can be fined anywhere from a hundred thousand dollars up to one million dollars, and could be sentenced to a year in prison. So certainly something we take quite seriously here at the BC Wildfire Service."
Allen says they have a fire cause and origin investigation team…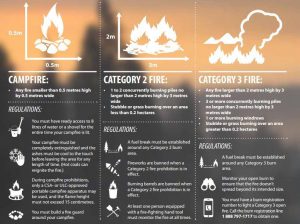 "Those folks are trained to look at what can start a wildfire. So determining whether it's lightning caused or human caused. And human can be a really wide indication of different causes of fire, whether it's industry, rail, automobile, campfire, cigarette, things of that nature. So they're highly trained individuals that go out and look at what the cause could be and then within that, they go and determine if it was human caused, try to find the human that caused it, and levy fines as need be."
In addition to the ban that is now in place, Allen says there are also conditions for smaller fires that are allowed right now.
"Any fire that is smaller than two metres high and three meters wide is still allowed, those are the category two fires as well as campfires. And really the general regulations, if anyone is open burning, is not to burn in strong, windy conditions, the fire must be extinguished before you leave the area, and always staying with that fire and making sure that we do have at least eight litres of water or a hand tool such as a shovel around, just in case that fire does get a little larger than intended."
Allen urges everyone, with the warmer temperatures coming this weekend, to be cautious if they do plan to do some burning.
Category 3 Fires were prohibited throughout the Cariboo Fire Centre, and also within the Tsilhqot'in (Xeni Gwet'in) Declared Title Area as of noon on Monday, April 23.
The prohibition is expected to remain in place until Sept 29 or until the public is otherwise notified.