Canada, British Columbia and the Tsilhqot'in Nation announced Saturday the signing of a tripartite Collaborative Emergency Management Agreement.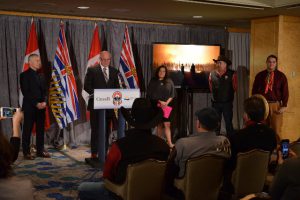 BC Minister of Indigenous Relations and Reconciliation, Scott Fraser says that the 2017 wildfires left their own scars-physical scars on the landscape, emotional scars on the communities.
"This is what I heard from Indigenous people about the floods and the fires of 2017," he says.
"Indigenous people did not feel treated as equal partners and acknowledged as self-determining governments during this crisis, and the fires exposed institutional racism in government's emergency response and systems."
"Those are hard truths for any government to face and to hear…We need to work with each other before emergencies happen, we need to learn from what happened last year, we need to work out what went wrong."
Under the Agreement, the federal, provincial and Tsilhqot'in Nation governments will work together to identify best practices and build on the capacity of the Tsilhqot'in communities in emergency management.
The goal the Tsilhqot'in National Government said in a media release is to build trust, relationships, strong lines of communication, improved processes between all partners, and to deliver emergency services in the most efficient and effective way for all British Columbians in the region.
"Going forward it is critical that we collectively draw on the lessons learned from this event to ensure that First Nations are supported during an emergency that respects their inherent jurisdiction and their right to self-determination," says Jody Wilson-Raybould, Minister of Justice and Attorney General of Canada.
"We know that Indigenous peoples have significant knowledge and capacity with respect to emergency management. As we saw the Chilcotin peoples not only have many years of firefighting experience but an expertise that is rooted in their deep connection and understanding of their traditional territories."